Our Stories – Luisa Penilla
---
Luisa shares how she became a Christian. Originally shared at her baptism on Nov.10, 2019, here is her story.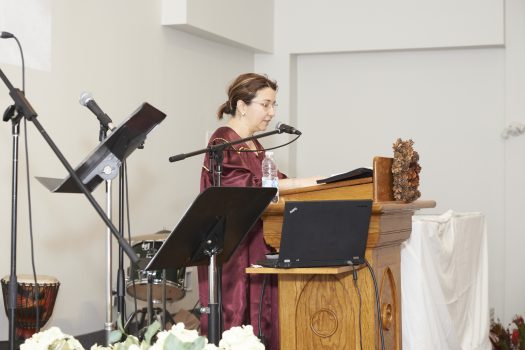 I come from a Christian family, my sister became a Christian as a teenager, I went to church regularly but never quite understood the importance of Christ for my Christian life.
It wasn't until my dad was dying almost 2 years ago, that this truth hit me, my sister was rushed for my dad to accept Christ as his saviour and for me this was not so critical, for me, it was sure that he would go to heaven cause he was a good person. By the time of his dead, my dad believed in Christ but as with the new age ideology, he also believed in energies, the healing power of colours etc. In his last days, a Catholic priest went to apply the Holy anointing to him, and one of his brothers didn't want the priest to put oils on his forehead cause this way he would "block" my dad's 3rd eye… At that time I didn't understand, but a huge spiritual war was developing to win my dad's soul… Praise the Lord, the last moment of consciousness of my dad was when my sister prayed for him, and he accepted Christ as his personal saviour.
At the same time, here in Montreal, my son Nico was diagnosed with Peritonitis so an urgent surgery was programmed for him. So my dad died at 3 am in the morning, and I took a flight back to Montreal at 9am to be with Christian and Nico. Before leaving Orlando, my sister prompted me to pray, she told me about the spiritual war, and that we needed to pray for Nico. Again, at that moment I didn't understand, what is a spiritual war? I didn't know but I prayed with my sister cause she always have been my guide, and I now know how much protection her prayers have gave me through my life…
Nico's surgery went well and he completely recovered, I know my sister kept praying, and when the real grief came, all the pain started transforming my faith, and one day, all of a sudden, I realized that my dad was with Jesus, and that I was going to see him again, and that all that my sister did when he died, was indeed a matter of death or life, and that my dad has eternal life with Christ.It was a revelation for me, I knew these truths before but I had never understood them, so I think the Holy Spirit talked to me, and that is when I really became a Christian and accepted Christ as my saviour. So that is why I'm here today, to give the Glory to Christ, to recognize in front of everyone that what He did for us is priceless, that without deserving it, He have blessed my life in unimaginable ways. Just having Christian and Nico is more that I could have ever wished for. He now gave me the privilege to belong to this church, and most important, I have now eternal life thanks to His sacrifice.