Our Stories – Esteban and Natalia Diaz
---
The following testimony was shared with the church by Esteban on October 27, 2019.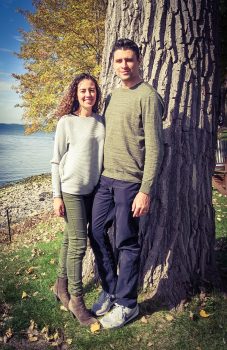 As you may probably know already, my mother in-law, Natalia's mom Ivonne, sadly passed away this past June 21st leaving us with an empty hole in our hearts. She was a devout woman. A woman of God. A woman who was kind, loving and extremely generous with everyone she knew. she always encouraged us to pray, to be thankful and to serve God with all our hearts. She was a role model for all of us in the family and she had many dreams too: To live in Canada and to raise her children there; to serve the community at her local church in Ottawa; to be a grandmother, and to see my side of the family come to Christ. But then suddenly God chose to take her to be with Him.
Her health throughout the last two years was not very stable. One day she would feel great or as she would say it, 'I feel divinely' and the next day she would feel nauseated with lack of energy. She stopped chemo and she restarted. In the meantime, we were all praying for God's will and that God would heal her completely. We started a prayer chain with our community but what was most amazing is that she prayed for us too and constantly reassured us that everything would be ok. That was very comforting and something we are very thankful for today because of the peace it gave us.
Then on June 21st God had other plans for her and for all of us too and It was so hard to understand and make sense of the timing of it all.
In her last months, God showed us that it was best for us to sell our home in Lachine and buy a new house in the south shore. Then a few weeks before moving out, Ivonne was admitted to the palliative center in the west island. in between the visits, packing boxes, working and living life, my mom told me that she was having marital problems and was considering divorce, so I had to be there for her also. Then all the stress and anxiety culminated when Ivonne passed away on a Friday. one day before we were scheduled to move to our new home. it was intense but thanks to the Lord and to everyone's prayers, our transition those first weeks went smoothly as we were comforted and filled with an unexplained peace that we are sure came only from God.
Isaiah 41:10 – He will strengthen us and help us with his righteous hand that saves us.  
Obviously, her death had a major impact in all our lives, and we are very grateful that she left us with a genuine Christ-full legacy and great memories. but it wasn't all…. her passing was a turning point in so many ways and so many blessings came out of it.
Romans 8:28 – And we know that in all things God works for the good of those who love him, who have been called according to his purpose. 
First, at the ceremony we had for my mother in law in her church in Ottawa, my mom, my grandmother of 94 years of age and my aunt made their best decision of their life, to follow Christ as their saviour. this was one of Ivonne's wishes and one of our many heart's desires. Also, a few days before she passed, she told Natalia that she understood why we haven't had kids all this time and she said it was because we were meant to be there for her all that time and help her and spend quality time together. then one month later, God granted us the most expected gift in the most unexpected time, we are finally pregnant, 14 weeks today.
Recently my mom told me that God is restoring her marriage slowly and there are so many more blessings that I could think of.
God works in mysterious ways and he is a miracle worker. God says in His word "to be thankful at ALL times", and during those those four years of wanting to have children and two years of my mother in law's battle with cancer, we said many times to God in tears "we give you thanks for everything we have and also for the things we dont have, we trust in you and rest in your power".
We learned that a grateful heart, at all times, makes a difference when facing struggles.
Just like Pastor Bryan mentioned in his message a few weeks ago, "With Christ there is triumph in hardships." A Bible verse that helped us go through these tough times comes from 
Philippians 4:6-7 "Do not be anxious about anything, but in every situation, by prayer and petition, with thanksgiving, present your requests to God. And the peace of God, which transcends all understanding, will guard your hearts and your minds in Christ Jesus."
Isaiah 40:31 – " Those who hope in the Lord will renew their strength."
Today our purpose was not only to share with you our recent testimony, but also to encourage you and to remind you of the GREAT love, the AMAZING power, and faithfulness of the God we serve.